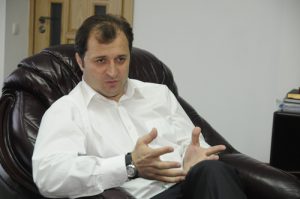 Infotag: Your Excellency, eight months have passed since your Government started working. What has your team managed to achieve?
Vlad Filat: That period was far from easy because we have inherited from the previous Communist authorities a country struck with a crisis, a country having an antagonistic, split, internationally isolated society with frozen relations with development partners. We had to withstand challenges unprecedented in the previous history of the Republic of Moldova. The first essential-most objective was to ensure survival of the country. And today I can state with pride that we have managed this. Moreover, we have created a basis for Moldovas further development as a democratic, law-governed state having a functional market economy and clear European integration perspectives.
Infotag: Could you describe briefly the current economic situation, please?
Vlad Filat: In 2009, the Moldovan economy underwent its severest economic decline over last 15 years. At the moment of our coming into power, the annual budget deficit was prognosticated to be 16% GDP, but the new Government succeeded in suppressing the annual deficit figure by 7.8% GDP for the year 2009. We worked out a program of stabilization and economic revival for 2009-2011. On the basis of that program, we negotiated with the International Monetary Fund a memorandum-agreement for years 2010-2012, and the IMF's Executive Board approved the document on January 29, 2010. Moldova received a financial support to an amount of nearly US$180 million for financing the Budget and ensure macro-economic stability.
Infotag: Which financial results do you feel proud of?
Vlad Filat: In the first quarter of this year, the public Budget revenues grew up by over 12% against 1Q2009, and expenditures și by slightly over 6%. We have managed to not only stabilize the situation but even to achieve a small economic growth și by a little over 2%. In this context, I would like to mention the conclusion made by an IMF mission recently și that the new Government has managed to overcome the recession, and that macro-economic indicators have tangibly improved. By the way, the initially forecast figure of budget deficit, 7%, was actually brought down to 5.4%.
Infotag: What has the Filat Government achieved in its European integration activities?
Vlad Filat: A landmark event in that field was the start of negotiations on a EU-Moldova Association Agreement. Within the framework of that document, three negotiation processes were commenced și on visa regime liberalization, on establishing a free trade zone, and on human rights.
Dialog between the Republic of Moldova and the European Union received a new dynamic thank to the visit a Moldovan governmental delegation paid to Brussels on March 23-25 to attend a meeting of the consultative donor group. At the forum, Moldovas development partners promised a financial assistance to an amount of US$2.6 billion.
A particularly important aspect of our cooperation with the European Union is energy. Last March 17, the official ceremony of signing a Protocol on Moldovas joining the Energy Community Treaty (ECT) took place in Vienna. That was a significant step for us in the field of introducing EU energy standards, a step marking Moldovas increased investment possibilities.
Infotag: How would you assess Moldovas current external policy and ties with neighbor countries?
Vlad Filat: Last several years, Moldovas relations with Ukraine had been practically frosted, and relations with Romania had reached a state of hostility și thank to the unilateral steps and attitude displayed by the previous leadership of the Republic of Moldova.
Very soon after our coming into power, we restored relations with Romania. In a fairly short period of time, we signed an Agreement on small trans-border traffic, an Agreement on border-crossing stations between the Republic of Moldova and Romania, a Protocol on amending the Agreement on mutual promotion and protection on investments. We have agreed to open new consular offices. An Agreement was signed on providing €100 million for Moldova, and the Radauti-Lipcani bridge across the Prut River was commissioned. In a word, the Republic of Moldova and Romania have returned to mutually beneficial good neighborly relations and partnership.
In that period, the Moldo-Ukrainian relations, being a priority of the Republic of Moldovas external policy, were marked with a very positive dynamic. On January 29, the two countries started demarcation of the central sector of the Moldo-Ukrainian border with the participation of the Moldovan and Ukrainian foreign ministries and experts from the European Union Border Assistance Mission to Moldova and Ukraine (EUBAM).
Promotion of relations with Russia was the reflection of a new impulse in the Moldo-Russian political dialog that resulted from high-level political contacts established at the end of 2009. I would like to highlight in this context the two meetings I had with Russia Prime Minister Vladimir Putin in Yalta and St. Petersburg. Those were constructive discussions, and we agreed upon solving many problems, such as, for instance, on extending the deadline for registration of Moldovan citizens upon their arrival in Russia from the previous 3 days up to 30 days, on the opening of extra terminals for Moldovan wine exports to Russia, and other.
The Moldova-U.S. dialog has reached a high level. On January 19-23, I visited the United States. During that visit, the two countries signed an Agreement on a full financing by the Millennium Challenge Corporation (MCC) Compact program of projects aimed at Moldova's transition to an advanced agriculture, rehabilitation of Moldovas roads (US$262 million), and a Memorandum on the principles and procedures between the Republic of Moldova and North Carolina State.
I had meetings with outstanding political and other personalities și U.S. Vice-President Joe Biden, U.S. Secretary of State Hillary Clinton, MCC Executive Director Daniel Yohannes, IMF Director Robert Zoelick, World Bank Group Chairman Dominique Strauss-Kahn, United Nations Secretary General Ban Ki-moon, UNDP Administrator Helen Clark, and other. As a result, the parties worked out an action plan to implement the accords reached during that official visit to the United States.
During the short period in question, bilateral relations have substantially developed and accelerated with a whole number of European Union member states și the Netherlands, Finland, Sweden, Norway, Austria, Portugal, Spain and other.
Infotag: And what has the Government achieved in the country reintegration field?
Vlad Filat: Reintegration of the Republic of Moldova is one of the 5 main priorities of my Governments work program. We attach a paramount political significance to Transnistrian conflict settlement. For the first time ever since 1992, this essential work has been entrusted to a profiled Deputy Prime Minister, who receives assistance in this work from the Bureau for Reintegration, a specialized structure at the State Chancellery Office.
Regretfully, despite all our efforts, we have not yet succeeded in restarting full-scale 5+2 talks. Despite this, some essential events took place lately that can help create prerequisites for conducting the settlement work. I would like to highlight three informal meetings held in the 5+2 format și in Vienna last November 6, in Tiraspol on November 9, and in Vienna again on March 1-2, 2010.
We continued cooperation with the European Union Border Assistance Mission so as to improve the border security and control on the Transnistrian segment of the Moldova-Ukraine border, including by attracting European experts to border demarcation work.
We shall continue our efforts aimed at achieving a peaceful settlement of the Transnistria problem within the Republic of Moldova constitutional frame so as to eventually reintegrate the country.
Infotag: Thank you very much for your interview, Mr. Filat.