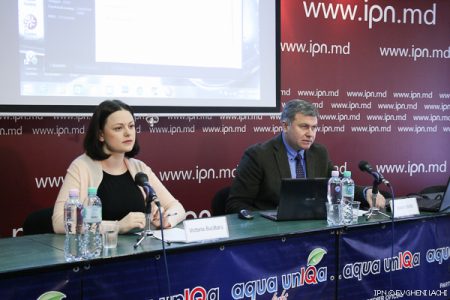 The reviewed European Neighborhood Policy, which was presented to the European Parliament in November, will have the stabilization of the countries in the region as its main priority. It will focus on the differentiation and increased reciprocal responsibility of the partner countries. The essential elements of the new European Neighborhood Policy were presented by the executive director of the Foreign Policy Association (APE) Victor Chirila and the Association's programs director Victoria Bucataru in a news conference at IPN.
Actions to review the European Neighborhood Policy were taken throughout 2014. They ended with a public consultation were the EU member states, international organizations and social partners made over 250 contributions. According to the APE director, the need to review the European Neighborhood Policy derived from the acknowledgement of the fact that the EU cannot solve by itself the multiple problems faced by the partner countries. "The EU understood that it needs the partner states to equally and responsibly contribute to changes. That's why the EU decided to bring more pragmatism in this European Neighborhood Policy, including in the Eastern Partnership," stated Victor Chirila.
The goal of the new Policy is to propose methods by which the EU and its neighbors could build more efficient partnerships in the neighborhood. "The stabilization of the region, including of the Eastern Partnership, is the key priority. In the EU's view, the stabilization objective does not center on regional security only. It also refers to a number of sectors where there are the main sources of instability and radicalization – poverty, inequality, feeling of injustice, corruption," said Victor Chirila.
Among the main elements of the reviewed European Neighborhood Policy are the differentiation and reciprocal responsibility, creation of an independent, transparent and impartial legal system. The new Policy envisions that the EU will intensify cooperation with civil, economic and social players and with the authorities of the partner countries that deal with security and terrorism fighting.
The new European Neighborhood Policy also provides that the EU will explore new alternatives of promoting international and commercial and investment relations. "The economic cooperation will remain one of the relevant areas of the reviewed Policy and the aspirations of the partner states as regards the cooperation with the EU will be taken into account here. Also, the EU intends to develop inter-sector partnerships so as to support economic growth in the neighboring countries. The goal is to create closer ties between the public and private sectors," stated Victoria Bucataru.
According to her, the EU aims to extend the Trans-European Transport Network TEN-T for promoting the necessary investments in this extended network.
The review of the European Neighborhood Policy was proposed by the President of the European Commission Jean-Claude Juncker and asked by the EU member states.