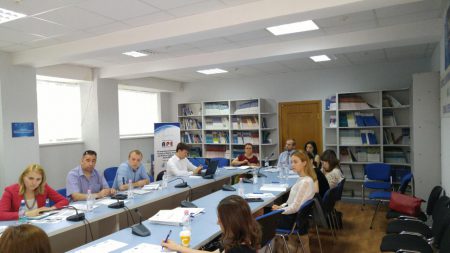 Press Release
Chisinau, June 28, 2016
Communicating the European vector in a period of political/financial crises and geopolitical interest in Moldova
On June 28, 2016, the Foreign Policy Association organized an expert workshop in a Chatham house rules format in order to discuss the countries communication system applied during the implementation of the Association Agenda between the EU and Moldova.
At the event, representatives of the Government, non-governmental organizations and media as well as development partners were invited.
During the event, the participants acknowledged the need to elaborate a clear, long term strategy of communication regarding the EU association process which will include through strategic lines connected with the countries national interests.
The existence of a clear cutting document not only will favour the work of the governmental institutions and make the communication between central government and local easier but will also give development partners possibility to identify the countries needs and support Moldova to fulfil its engagements taken on the path to modernizing the country.
The participants also touched upon the issue of cooperation between the Government and the civil society pointing out the inefficiency of the current mechanisms due to several reasons among which: political influences, institutional deficiencies, lack of interest to technical topics, etc.
As a result of the workshop, the decision to set up a "group for dialogue" in the framework of the project was taken having as main aim maintaining further dialogue and cooperation on topics related to EU association communication.
For more information about the event and the project please contact: Victoria Bucataru, victoria.bucataru@ape.md
____________________________________________________
The project "V4 Supporting Communication Strategy of Moldova, Georgia and Ukraine on implementing AA and DCFTA" is led by the Foreign Policy Association of Moldova and supported by the International Visegrad Fund. The opinions expressed during the events/publications are those of the participants/authors and do not necessarily reflect the views of the International Visegrad Fund. More information about the project can be found on the project website: www.communicating-europe.ape.md
The present project is be implemented by the Foreign Policy Association in partnership with the Foundation Institute for Eastern Studies (http://www.forum-ekonomiczne.pl/?lang=en/), Center for EU Enlargement Studies (http://www.ceu.edu/), Research Center of the Slovak Foreign Policy Association (http://www.sfpa.sk/), Association for International Affairs (http://www.amo.cz/), The Georgian Institute for Strategic Studies (http://giss.org.ge/eng), Civic Organization Institute of World Policy (http://iwp.org.ua/eng/)