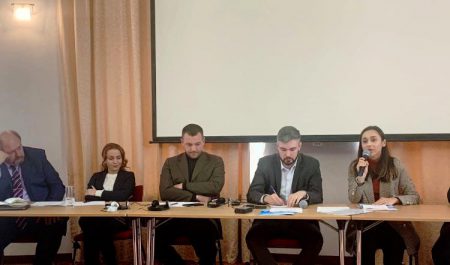 "The Eastern Partnership – without the East and / or without partners?" was the main topic analyzed at the international round table, where Natalia Stercul the program director, the department of Eastern Studies, participated together with Ludmila Nofit, interim executive director, Foreign Policy Association of Moldova.
This platform of discussions was a premiere for the Black Sea region of Romania, where it brought together experts from Romania, Moldova, Ukraine and Belarus, having the opportunity to address various important issues related to the Eastern Partnership (EaP) initiative, after 10 years of existence, in regarding of the results obtained, missed opportunities, but also the challenges that have arisen since its launch in 2009.
The experts, also, analyzed the role of external factors (influence of the Russian Federation in the region, political and institutional crisis within the European Union, Brexit, the problem of immigrants, new security threats etc.) and the latest political and security developments in the region (annexation of the Crimea by Russia, the military conflict on the eastern territory of Ukraine), their impact on the development of the EaP initiative, as well as the development prospects for the immediate period for both the partner states and the European Union.
The event was organized on November 2nd, in Constanta city, Romania, by the Association of the Black Sea House, lead by director Dorin Popescu, as well as the branch of the Association for the Initiative for European Democratic Culture.