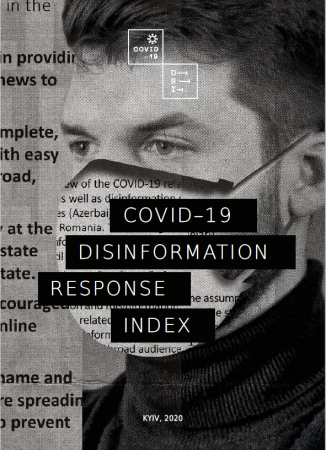 The study presents an overview of the COVID-19 related actions and communication strategies, as well as disinformation narratives in the six Eastern Partnership states (Azerbaijan, Armenia, Belarus, Georgia, Moldova, and Ukraine) and Romania. This is a logical follow-up and topical addition to the Disinformation Resilience Index 2018, published by the Foreign Policy Council "Ukrainian Prism."
The aim of this research is to have a "crash-test" of some assumptions made in 2018 by the national experts and to analyze how the states' resilience towards disinformation and misinformation evolves. The rampant flood of disinformation related to the COVID-19 pandemic turns out to be a test for state disinformation resilience. In addition, the study aims at raising awareness of broad audiences about possible threats of disinformation activities related to COVID-19 and state resilience.
Moldova, Natalia Stercul, PhD, Foreign Policy Association of Moldova
In Moldova, the pandemic response and its coverage in the media have been highly politicized. The general political competition in the country had its negative effect and led to an increased level of misinformation and manipulation with information. Russian and Chinese disinformation campaigns and media influence have been noticed. Moldova's Response Plan presented in March had a communication component that included media and social media, top officials briefings, hotlines, and websites. The communication about the COVID-19 situation in the country was conducted twice a day on behalf of the pandemic task force. However, the general low trust of the Moldovan population in their government and disconnection between the information provided and real facts on the ground led to the negative perception of the official information.
The research was carried out in Summer, 2020 by the Foreign Policy Council "Ukrainian Prism" (www.prismua.org) in the framework of the project "Coronavirus crush test: Disinformation Resilience of EaP states and Romania", supported by the Black Sea Trust for Regional Cooperation, а Project of the German Marshall Fund of the United States. Opinions expressed in this publication do not necessarily represent those of the Black Sea Trust or its partners.
Download study: http://www.ape.md/wp-content/uploads/2020/10/DRI2020WebFIN.pdf