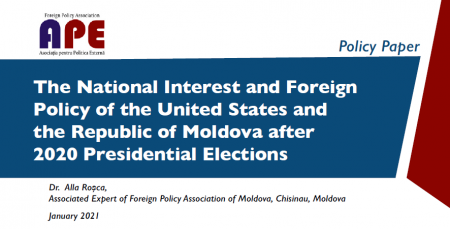 Dr. Alla Roșca, Associated Expert of Foreign Policy Association of Moldova
Chisinau, Moldova, January 2021
Summary
• The elections of Joseph Biden and Maia Sandu as presidents of the United States and the Republic of Moldova represent a change in the political landscape in both countries and open a possibility to refresh the cooperation between the two countries.
• The great power and a small power could benefit from reciprocal collaboration and advance their national interests and gains in areas such as security, democracy and good governance, anti-corruption, environment protection, and public diplomacy.
• The Republic of Moldova, a small power, could adopt a strategy of "small but smart" state, to use its smallness as advantage to develop and deepen its national interest in collaboration with the United States.
The National Interest and Foreign Policy of the United States and the Republic of Moldova after 2020 Presidential Elections_v5

Accesses full article: http://www.ape.md/wp-content/uploads/2021/01/The-National-Interest-and-Foreign-Policy-of-the-United-States-and-the-Republic-of-Moldova-after-2020-Presidential-Elections_v5.pdf