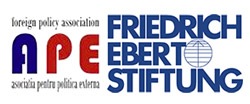 TOPICS OF THE EDITION:

1. The EU Eastern Neighbourhood – where to? Victor Chirilă: Republic of Moldova has benefted greatly from the EU offers coming through the
Eastern Partnership
2. Stanislav Secrieru: If we look at the developments in Moldova, there is practcally nothing that would recommend it for a European
perspectve
3. "Who launched the spectre of an accession applicaton by Moldova at the Riga Summit? An editorial by Ștefan Gorda.
4. James D. Pett: Corrupton is an enormous obstacle to the development of a prosperous and democratc society.
Newsletter APE_FES_2015_06_ENG