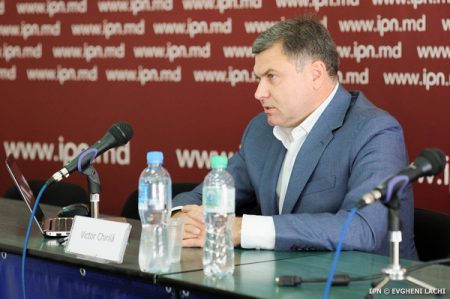 The Republic of Moldova needs a new realistic, ambitious and long-term European integration view and the interaction with the neighboring Romania in a number of areas is the best solution for securing the country's rapprochement with the EU, executive director of the Foreign Policy Association (APE) Victor Chirila said in a press club meeting at IPN.
Victor Chirila believes the joining of the EU depends now on Moldova more than ever and the old view that the Association Agreement will open the door for accession is no longer applicable. From his viewpoint, Moldova needs a new, long-term European integration view, based on several pillars that are contained in the association agenda, such as the reformation of the justice sector, corruption fighting and reformation of the financial-banking system. But the current government is most probably unable to ensure these reforms are done.
According to the expert, Moldova can convince the European partners that it does not have and does not want another alternative than the integration into the EU through its 'connection' with Romania in a number of fields. A common economic area with Romania should be created so that the economic entities from both sides of the Prut River have free access to the markets of the two states.
Another proposal is to create a common energy market between the two countries and to interconnect all the electric power networks, avoiding implementing particular projects only. Victor Chirila said a common capital market is also needed, while the Romanian banks should have free access to the Moldovan banking system. This will allow ensuring greater transparency in the system. He also suggested diversifying the transport networks between Moldova and Romania so as to connect more settlements, not only several towns with the capital city. This way the cultural exchange between people will be ensured.
The APE director noted that such actions imply big investments, but Moldova can afford to make them. Furthermore, the Romanian authorities repeatedly stated that they could invest in particular projects in Moldova. From his viewpoint, such a tie between the two states can be built during at most ten years.
Victor Chirila added that if no such decisions are taken, which would convince the EU member states that Moldova does not have an alternative to the entry into the EU, the country will be unable to join the EU during many years ahead.