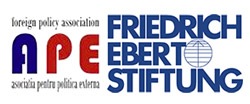 TOPICS OF THE EDITION:

1. Britsh Ambassador to Chisinau, Phil Batson: The major risk is that the establishment does not learn from its mistakes and continues to pay lip service to the reform process.
2. Ex-Finance Minister, Veaceslav Negrută: "The statements of the Government differ greatly from its actions".
3. Vice-president of the Trade Union Federation of Construction, Oleg Mîrleanu: Without a constructive social dialogue we are not going to succeed.
Newsletter APE_FES_2016_03_ENG