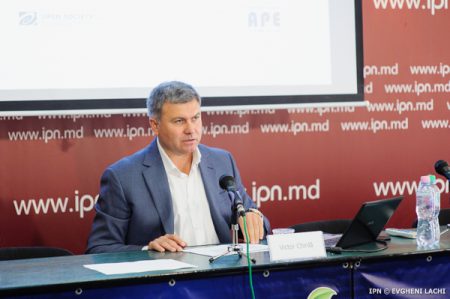 If the discussions in the new round of Transnistrian conflict settlement talks in the 5+2 format refer strictly to the social and economic problems faced on both sides of the Nistru River, the discussions will be practically useless, considers the executive director of the Foreign Policy Association (APE) Victor Chirila. The expert said the discussions must focus on all three baskets: socioeconomic, human rights and security-politics. The opinion was stated in an APE press club meeting at IPN entitled "Red lines of the Transnistrian settlement process", which was held in connection with the announced resumption of the 5+2 format talks.
Victor Chirila said the third basket, about the political status and security in the region, has been always neglected by the Transnistrian side and the Russian Federation. In fact, Russia wants only for Tiraspol to improve its economic situation, including by free access to the EU market. As to the rest, it prefers to keep its troops and munitions in the region and does not want the sides to reach a compromise.
The APE executive director noted that the sides involved in the 5+2 format talks must insist on continuing the demilitarization of the Transnistrian region and on transforming the peacekeeping mission into a civil observation one. The peacekeeping operation achieved its goals and there is no need for this to be represented by the military.
According to Victor Chirila, the small steps policy towards the Transnistrian settlement process turned out to be practically inefficient. Thus, the Moldovan authorities should return to the tactic of 2007-2008, when they asked that a number of problems, which would include the three baskets, should be solved in a package.
Another problem noted by the APE executive director is the fact that the Moldovan diplomats are put in a delicate situation of not having a full mandate for suggesting solutions in the Transnistrian settlement process. According to him, a law adopted in 2005 provides that a solution concerning the region's political status could be identified as a result of the region's democratization and demilitarization, but nothing was yet achieved in this regard.
The next round of the Transnistrian conflict settlement talks in the 5+2 format will be held in Berlin on June 2-3. after a hiatus of two years.