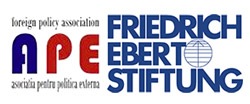 TOPICS OF THE EDITION:

1. Alexander Kremer, Head of the World Bank Ofice in Moldova: Negative trend can be reversed in the space of one government if the will to do so is there.
2. Polish expert Grzegorz Gromadzki: I don't have positve expectations from the political elite in power as it is not able to change its way of doing politics.
Newsletter APE_FES_2016_04_ENG