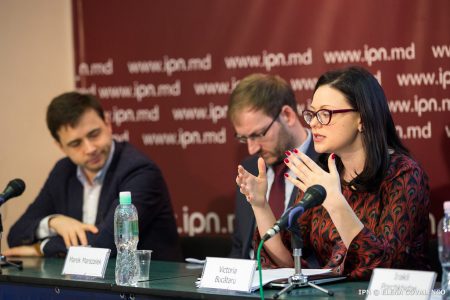 Though the European association of Moldova is one of the main foreign policy courses, opinion polls show the popularity of the European integration idea diminishes among the population. Executive director of the Foreign Policy Association (APE) Victoria Bucataru said the fact that the authorities didn't involve the people in the negotiation of the Association Agreement and in the preparation of the plan of action for liberalizing the visa regime is one of the reasons for such a state of affairs.
In a press club meeting at IPN, Victoria Bucataru said emphasis was then placed on communication with the development partners so as to create a more favorable image to Moldova and the communication with the population was neglected. "At that stage, attempts were made to work out a communication strategy. An internal document was thought up and this was used by the authorities, but it didn't include a chapter concerning communication with the people," she stated.
According to Victoria Bucataru, a large part of the responsibility for communication should be borne by the Government, Parliament and political elites that promote the European development course and are directly involved in the reform process. The authorities should clearly explain to the people what the association with the EU is, what its benefits are and how Moldova will be transformed in the medium and long terms. The people must understand that the association with the EU brings advantages that will become visible in a longer period of time.
"After Mister Dodon was elected President, we see that other integrationist models are also promoted and they speak about the possible disadvantages of the European course for the Republic of Moldova. The lack of cohesion at the level of authorities and the duplicity of messages will definitely be to Moldova's detriment both at internal and foreign levels," stated Victoria Bucataru, noting that we cannot overlook the real benefits of the association with the EU given that the EU is the main donor and provider of financial assistance for Moldova.
The APE director also said that the politicization of state institutions and the political factor contribute a lot to this low level of communication. When there is no communication between ministries and governmental institutions, the communication process is generally affected. The massive propaganda in the mass media sector of Moldova is an element that leads to an increase in the number of Euro-skeptics. The authorities should thus play a bigger role in fighting propaganda.
The press club meeting was held to sum up the results of the project "Communication strategy of the Republic of Moldova, Georgia and Ukraine in the process of implementing the Association Agreement and Deep and Comprehensive Free Trade Agreement" that was carried out by the public association Foreign Policy Association with financial support from the International Visegrád Fund.
Source: Info Prim Neo: http://ipn.md/en/arhiva/82252