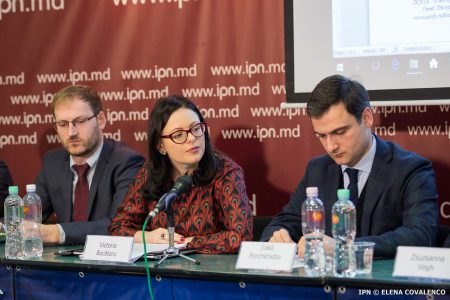 In the process of association with the European Union, the Republic of Moldova, Georgia and Ukraine have a number of resemblances and differences in terms of communication on the European course. These were analyzed by experts in a press club meeting staged at IPN by the Foreign Policy Association.
According to Leonid Litra, researcher at the Kyiv Instituted of World Politics, said the Russian-Ukrainian conflict is the difference that changed the Ukrainian speech in relation to the EU. Also, unlike Moldova, Ukraine has a quasi-political majority in favor of the European Union. There is a clear pro-European course and a clear pro-European majority in society and this facilitates communication on European integration issues.
The expert noted that the similarities are related to the fact that Ukraine, as Moldova, has a plan for popularizing the European integration and the Association Agreement. But the problem is that no money was earmarked for implementing this plan that was approved in 2013. An important part of the responsibility for communication on European integration is placed on foreign donors. If these do not allocate money, there is no communication.
Leonid Litra also spoke about the difference noticed between the center and the periphery. In Kyiv the level of European alphabetization is high, while in regions not many public authorities allotted time for communication on European integration with the people.
In the same connection, vice president of the Gregorian Institute for Strategic Studies Irakli Porchkhidze said the common problems of Georgia and Moldova are related to false stereotypes and incorrect perceptions of the EU. The people do not have enough information about the Association Agreement and do not understand the concepts. This causes a feeling of fear and, respectively, a method of emotional repression. The government should make sure that the people understand that the European association process does not produce immediate effects.
The press club meeting was held to sum up the results of the project "Communication strategy of the Republic of Moldova, Georgia and Ukraine in the process of implementing the Association Agreement and Deep and Comprehensive Free Trade Agreement" that was carried out by the public association Foreign Policy Association with financial support from the International Visegrád Fund.
Source: Info Prim Neo: http://ipn.md/en/arhiva/82255