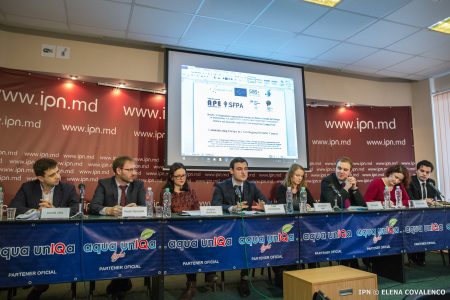 The Moldovan authorities do not have a strategy for disseminating information about the European course and the way in which the European integration process is perceived derives from here, executive director of the Foreign Policy Association (APE) Victoria Bucataru stated in a press club meeting entitled "Communication on the European course in a new regional security context" that was held at IPN.
Victoria Bucataru said the cooperation between the central and local authorities in promoting the European course is defective, but it is wrong to believe that only the central authorities should deal with the integration into the EU. "This process should involve not only the population and the central authorities, but also the local authorities that implement legislation at the local level and can communicate with the people," she stated.
In this connection, the APE director said the European course needs to be promoted by communication at all the levels. The defective communication results in a decline in the popularity of the European course among the people. That's why comprehensive messages that would be clear to the ordinary people are needed as not everyone holds public posts and knows the specific vocabulary.
"When we know the needs of the people and how they perceive the reform process in general, we will be able to formulate messages and to combat by them those myths about the European development model. We need a methodological approach, but this is absent," said Victoria Bucataru.
In the same meeting, vice president of the Georgian Institute for Strategic Studies Irakli Porchkhidze said each country should have the own understanding of the relations with the EU, including as regards access to markets and freedom of movement, because the expectations of each country are different.
The press club meeting was held to sum up the results of the project "Communication strategy of the Republic of Moldova, Georgia and Ukraine in the process of implementing the Association Agreement and Deep and Comprehensive Free Trade Agreement" that was carried out by the public association Foreign Policy Association with financial support from the International Visegrád Fund.
Source: Info Prim Neo: http://ipn.md/en/arhiva/82249