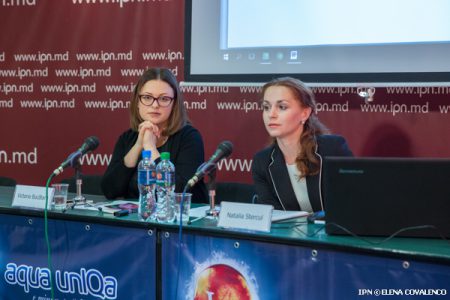 The Moldovan-Ukrainian relations this year have been marked by a number of events, including the celebration of 25 years of the establishment of diplomatic relations. After a pause of several years, the Prime Minister of Ukraine paid a visit to Moldova, where he signed a number of agreements, including the roadmap for developing the Moldovan-Ukrainian cooperation for 2018. In such conditions, a strategy and a more advanced strategic partnership are needed and the opportunities should be used so as to develop the region more and this becomes more powerful and represents a credible partner for the Euro-Atlantic development partners. Such suggestions were formulated in a press club meeting staged at IPN by the Foreign Policy Association (APE).
APE executive director Victoria Bucataru said that Ukraine is an important partner in the European development process and an important component in the Transnistrian conflict settlement process. After 2014, the regional context and the geopolitical situation in the eastern region of Europe changed a lot. The two states should adopt a common approach to a number of issues, either economic or political, because the region has development potential and these opportunities should be used.
APE programs director Natalia Stercul said it is very important to keep the symmetry of the actions planned by Moldova and Ukraine. The experience gained in cooperating with the European bodies should be employed so as to extend the Moldovan-Ukrainian relations and to strengthen the bilateral cooperation platform.
Natalia Stercul noted that the shortcomings related to democracy in both of the states affect the bilateral relations. However, the interaction between the Premiers of the two states has intensified and the Ukrainian Prime Minister recently paid the first visit to Moldova after many years. Similar interaction is not yet witnessed at presidential level.
During the visit to Chisinau, Volodimir Groisman and Pavel Filip signed the roadmap for developing the Moldovan-Ukrainian cooperation for 2018 and other agreements. They discussed border demarcation and management, exchange of land between Moldova and Ukraine, development of infrastructure projects, especially projects to build hydroelectric plants, and their impact on the environment and the situation of ethnic minorities. It is very important for the dialogue between the two sides to be maintained and developed, said the APE expert.
In the reunification area, Moldova and Ukraine cooperate intensely, but there is yet room for developing crossborder cooperation. Even if some see this aspect as economic in character, it is related more to the possibility of contributing to the welfare of the people from the separatist regions of the two states, said Natalia Stercul. She noted it is very important to make use of the European assistance and good practices in developing the Moldovan-Ukrainian relations, including through the EUBAM Mission.
The press club was supported financially by the Open Society Foundations.