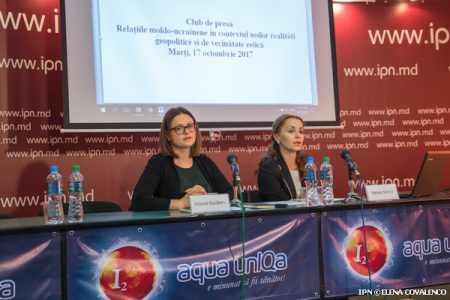 The Association Agreement with the EU is one of the elements that unites the Republic of Moldova and Ukraine. In such conditions, the two states could work out a common strategy for ensuring internal development and for contributing to the development of the region, executive director of the Foreign Policy Association (APE) Victoria Bucataru stated in a press club meeting at IPN.
"Probably, both the European Union and other development partners, such as the Euro-Atlantic partners and even the same Russian Federation, would look at the Eastern region differently if there is a common approach to particular issues, either political or economic. The region has development potential, but the authorities of the two states should understand this so that we could use these opportunities," stated Victoria Bucataru.
According to her, Ukraine, as a mediator in the Transnistrian conflict settlement talks in the 5+2 format makes an important contribution to the resolution of the dispute. It can be a reliable partner that understands the situation, given the crisis it has faced since 2014.
APE programs director Natalia Stercul said it is very important to keep the symmetry of the actions planned by Moldova and Ukraine. The experience gained in cooperating with the European organizations should be employed so as to extend the Moldovan-Ukrainian relations and to strengthen the bilateral cooperation platform. Also, both of the states should make use of the European assistance and good practices in developing the Moldovan-Ukrainian relations, including through the EUBAM Mission.
The press club was supported financially by the Open Society Foundations.