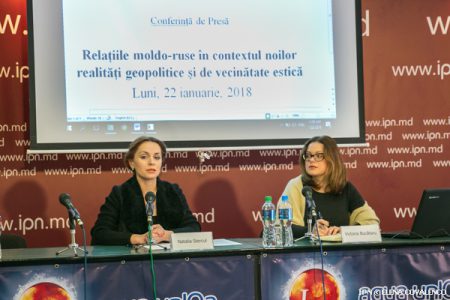 The relations between Moldova and Russia regarded through the angle of the strategic partnership continue to be tense. Despite the attempts to bring positions on a wide range of subjects nearer, a compromise could not be reached. At the same time, the economic and diplomatic instruments used as counteraction policies have a destructive influence and generate increased tensions inside the political dialogue between the two states. The conclusions were presented in a press club meeting staged by the Foreign Policy Association (APE) at IPN.
The Association's executive director Victoria Bucataru said the relationship between Moldova and the Russian Federation is important both in terms of internal policy and of foreign policy. The Foreign Policy Association aimed to reveal the problems, opportunities and solutions existing in the partnership relations.
APE programs director Natalia Stercul said the tendencies in the Moldovan-Russian dialogue worsened in 2014, when Moldova's Parliament ratified the Association Agreement with the European Union. In the process, the Republic of Moldova was guided by the external pragmatism that was based inclusively on the attempt to weaken the Russian influence. The bilateral dialogue stagnates and it is for now not possible to raise this to a new qualitative level. The tensions in the political relations between the two states can be overcome by separating oneself from contradictory discussions and by reaching a consensus within the bilateral cooperation.
The expert said that the weight of the spiritual and social challenges that are the result of the political pressure and of the political engagement of the elites in the Moldovan-Russian cultural sphere is increasingly felt in the cultural landscape. The populist tactics that are widely used by rulers in Moldova and Russia make the agents of the Russian influence in the Republic of Moldova be more active and lead to a greater split in society by geopolitical principles.
The press club was supported financially by the Open Society Foundations.