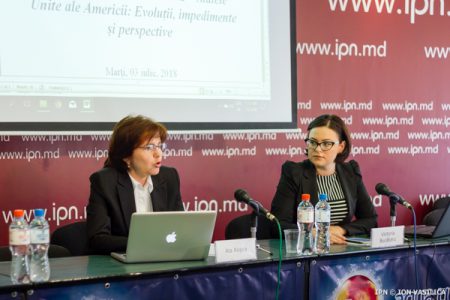 The relations between the Republic of Moldova and the United States of America can be analyzed in the context of the interaction between a superpower and a small state. After the Republic of Moldova in 2014 signed the Association Agreement with the European Union and the DCFTA, the U.S. expressed lively support for the European integration of the Republic of Moldova. At the same time, the country maintained the dialogue and cooperation line with Chisinau open despite the internal contradictions that appeared after the banking fraud was unveiled in Moldova in 2014. The United States' support for the democratic transformation of Moldovan society will continue especially after the parliamentary elections of this yearend as the stakes are great, said experts who took part in a press club meeting staged by the Foreign Policy Association (APE) at IPN.
APE associate expert Ala Rosca, university professor, said the bilateral visits paid by the government officials and political leaders increased in number during the military confrontations in Ukraine. Moldova had yet a period when it missed the chance of fully promoting its interests in Washington, namely during the two years when there was no Moldovan ambassador in the U.S.
The expert noted that the United States continues to maintain the dialogue line open, regardless of the internal political division in Moldova concerning the foreign factor -promotion of the pro-Russia direction by the President and of the pro-European direction by Parliament. "The United States also provide financial and diplomatic support, enouncing particular criteria and conditions, such as the promotion of reforms in the country, to root out corruption at all levels first and foremost, plus the promotion of economic reforms and ensuring of free competition in different areas. These are those several priorities and several conditions that the United States emphasizes in the cooperation with the Republic of Moldova," stated Ala Rosca.
She also said that the assessments given by the U.S. officials during the recent visits paid by the governmental delegation led by Prime Ministry Pavel Filip to Washington are in correlation with the United States' official orientation towards supporting the democratic reforms. There was transmitted a prompt, but hash message as to the independence of the judiciary to the government.
According to the expert, the United States' support for the democratic transformation of Moldovan society will continue, but the democratic forces in Chisinau, in cooperation with civil society, should fight corruption and do genuine democratic reforms. They should also create a free and competitive market, fight propaganda and manipulation in the media sector.
The press club is supported financially by the Foundation Open Society Institute.