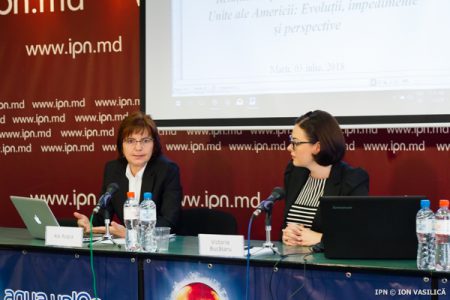 The U.S. Department of State's comment on the invalidation of the Chisinau early mayoral elections was prompt and very harsh and referred directly to the problems existing in the case law system of the Republic of Moldova. Such an opinion was stated in a press club meeting staged by the Foreign Policy Association (APE) at IPN.
APE executive director Victoria Bucataru said the message issued by the U.S. Department of State clearly says that the non-transparent decision to uphold the invalidation of the mayoral elections taken by the Supreme Court of Justice of Moldova is a threat to Moldovan democracy. "We see that they already say openly these things to the Moldovan authorities," she stated.
APE associate expert Ala Rosca, university professor, said the harsh message by the U.S. Department of State refers directly to the problems faced in the case law system. The United States warns the government officials of Moldova about the problems existing in the justice sector that is primarily politically influenced. Democracy means the separation of powers in the state and the judiciary should be independent and politically unaffiliated. There are precedents when the international organizations halted the financial support for Moldova, more exactly, after the banking fraud, when the EU and Romania stopped the transfer of tranches to Chisinau.
Ala Rosca noted this message is also a warning in the context of this year's parliamentary elections. "They say it clearly that such manipulation and influence will not be tolerated. In this case, I think the officials in the Republic of Moldova should take these messages into account," she said. According to her, the expectations are that the United States' support for the democratic transformation of Moldovan society will continue, but the democratic forces in Chisinau, in cooperation with civil society, should fight corruption and do genuine democratic reforms.
The press club is supported financially by the Foundation Open Society Institute.