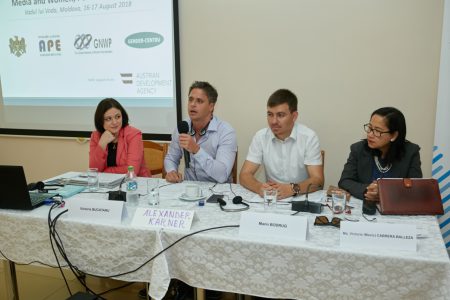 First session of workshop" Media- Women, Peace and Security" was opened by the Executive Director of Foreign Policy Association, Victoria BUCATARU, together with the following keynote guests:
Alexander KARNER, Head of bureau of technical coordination, Austrian Development Agency in the Republic of Moldova;
Ma. Victoria (Mavic) CABRERA BALLEZA, President Global Network of Women Peacebuilders;
Marin BODRUG, Representative of the Bureau of Reintegration.
The distinguished guests mentioned the importance to establish a strategical communication between mass-media representatives and public institutions, responsible for the implementation and monitoring the Resolution 1325 – Women, Peace and Security in the Republic of Moldova.
"Leave no one behind", that being emphasized by the ADA Head of Office Alexander Karner, who also stated the active implication of the Austrian Agency in supporting Women, Peace and Security agenda in the Republic of Moldova.
Ian FELDMAN, President of the Anti-Discrimination Council, one of the trainers of this session discussed together with the participants about the following topic "Reconciling professional and family life ", where they found out the gap in the national legislation and the necessity to upgrade from gender concept perspective.