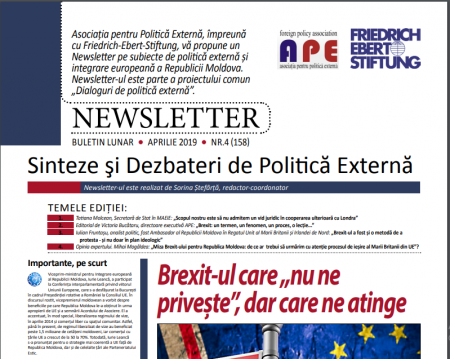 TOPICS OF THE EDITION:
1. Tatiana Molcean, State Secretary at the Ministry of Foreign Affairs and European Integration of the Republic of Moldova: "Our goal is not to admit any legal
vacuum in our further co-operation with London"
2. Editorial by Victoria Bucataru, executive director of the Foreign Policy Association: "Brexit: a term, a phenomenon, a process…"
3. Iulian Fruntașu, former Ambassador of the Republic of Moldova to the United Kingdom of Great Britain and Northern Ireland: "Brexit was also a method of
protest – not just ideologically"
4. Expert opinion. Mihai Mogâldea: "Brexit's stake for the Republic of Moldova: why should we carefully watch Britain's exit process from the European Union"?
Newsletter_APE_FES_2019_04_ENG

Extract: http://www.ape.md/wp-content/uploads/2019/05/Newsletter_APE_FES_2019_04_ENG.pd