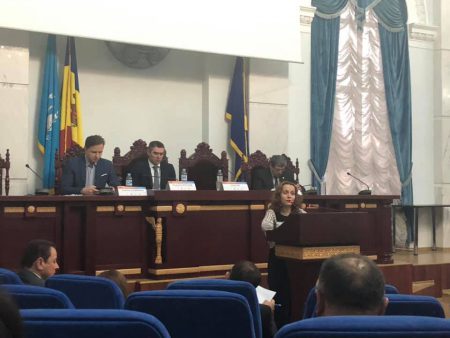 On November 21, in Chisinau, the international scientific conference "Ukraine and the Republic of Moldova: realities, perspectives and challenges" was held in the Academy of Sciences of Moldova.
The event was organized by the Embassy of Ukraine in Chisinau in partnership with the Foreign Policy Association of Moldova, the Institute of Legal, Political and Sociological Research, the Academy of Sciences of Moldova, the Community of Ukrainian Women in Moldova, as well as the Faculty of International Relations, Political Sciences and, ULIM.
The event brought together representatives of the academia, diplomatic corps, state institutions, as well as analysts, experts from Moldova and Ukraine, as well as students from the faculties of political science and international relations. An introductory speech was also presented by the Chargé d'affaires a.i of the Embassy of Ukraine to the Republic of Moldova, Volodymyr Boiechko, along with Victor Juc, Ph.D., director of the Institute of Legal, Political and Sociological Research, Oazu Nantoi, Member of the Parliament of the Republic of Moldova, Vlad Kulminski, former adviser to Sandu's prime minister, Sergyi Korsunsksy, ambassador, director of the Diplomatic Academy of Ukraine, Yevhen Mahda, director of the World Policy Institute, etc.
The conference addressed a number of actual issues of the two countries within the new regional and international political realities. The speakers discussed bilateral political issues, such as regional security and conflict resolution, energy security and the need to diversify energy supply sources, the ecological problem in the Dniester River, Russian hybrid threats and their impact on Ukraine and Moldova, etc.
The FPA expert on Eastern studies, Natalia Stercul, also participated to the conference, where she addressed the cooperation relations between the Republic of Moldova and Ukraine from the European perspective, both signatories of the Association Agreement with the EU, and members of the Eastern Partnership platform, mentioning the importance of deepening the collaboration between these two states in priority areas at bilateral and regional level.
The event ended with the presentation of an analytical paper elaborated by one of the invited participants, Yevhen Mahda, entitled "The Russian Hybrid Threat: Lessons for Europe".