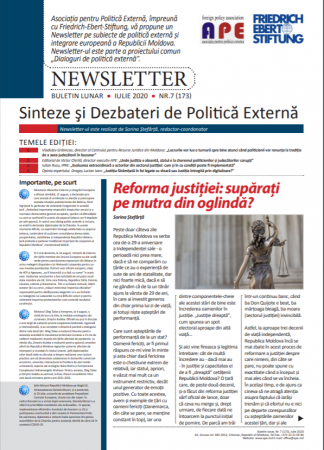 TOPICS OF THE EDITION:
1. Vladislav Gribincea, director of the Legal Resources Center from Moldova: "Things will turn for the better when politicians give up the tradition of having judges in their pockets"
2. Editorial by Victor Chirilă, executive director of the Foreign Policy Association (APE): "Where justice is absent, the state is at the mercy of corrupt politicians and judges"
3. Iulian Rusu, IPRE: "The extraordinary evaluation of the actors in the justice sector: how and under what conditions can it be implemented"
4. Expert opinion. Dragoș Lucian Ivan: "Justice crumbled in paper tied up with strings or Justice completed through digitalisation?
Newsletter_APE_FES_2020_07_EN

Download: http://www.ape.md/wp-content/uploads/2020/08/Newsletter_APE_FES_2020_07_EN.pdf