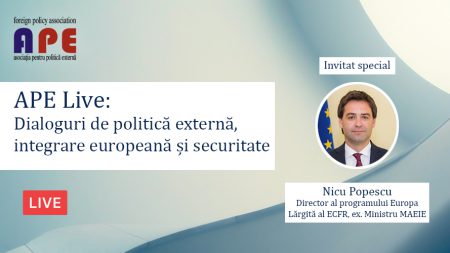 Foreign Policy Association of Moldova (APE) is pleased to announce the launch of a new series of public debates "APE Live: Dialogues on Foreign Policy, European Integration and National Security".
Alongside the national and international experts in the field of international relations, political science, security and public policy, officials, and diplomats, as well as civil society members, the Foreign Policy Association will discuss the latest national, regional and international evolutions and security challenges that influence Moldova's domestic stability, foreign policy and national security.
The debates aim to raise awareness among the national and international public/communities about current issues affecting and defining the country's foreign affairs, as well as to encourage/foster constructive dialogue and engage the expert community and officials in the development of solutions and policy proposals in the field.
We would like to invite you to participate at the first edition of APE Live debate titled: "The relaunch of the Foreign Policy of the Republic of Moldova: evolutions, challenges, prospects". The first guest of APE Live is Mr. Nicu Popescu, director of the Enlarged Europe program, ECFR and the Minister of Foreign Affairs and European Integration in the Republic of Moldova in 2019.
The debate will take place on March 29, 2021, at 11:00 (Chisinau Time), through the Zoom platform. For attending APE Live, please register by accessing the following link:
https://zoom.us/meeting/register/tJYvf-GorDMiHNOA8mM09zgtcqBG4RLjr_h-
We will be delighted to have your participation in upcoming debate and discussions.
*Please connect to the event 5 minutes prior event to allow time for technical assistance and troubleshooting. Questions to the panelists should be addressed in Q&A chat.
The debate will be recorded and shared after by the APE team. It may be processed and used by the organizers. By registering to this event, you are granting us the rights to do so and you agree with the Terms & Conditions of CEPS Data Privacy Policy.