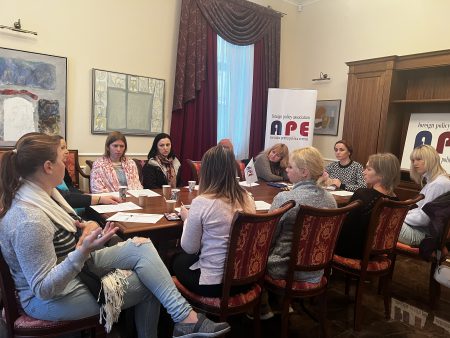 On November 24, 2022, in the premises of the Foreign Policy Association (APE) a meeting was held with representatives of Ukrainian refugees from the Republic of Moldova.
At the event, people originating from different regions of Ukraine who were strongly affected by the aggression were present such as Kyiv, Kharkiv, Donbas, Kherson, Nikolaev and Odesa. The participants of the event told about the radical change in their lives after February 24, 2022, about the horrors of war and their experience as refugees in the Republic of Moldova. They have repeatedly thanked the citizens of the Republic of Moldova, state authorities and civil society organizations for their continuous support and involvement in helping Ukrainian refugees, and have pointed out certain moments that require a more detailed approach in the case of a new wave of refugees.
The APE team brings cordial thanks to the Association of Ukrainians from the Republic of Moldova for the help provided and facilitating the organization of this meeting.
The events is organized within the project "Contribution of the Civil Society to Countering New Hybrid Threats as a Response to Refugee Influx: Active Resilience Approach of the Republic of Moldova" implemented by APE in partnership with Nord News, the "Pro-Europe" European Center from Comrat and The Security Zone, funded by a grant from the Institute for War and Peace Reporting (IWPR) with support from the Government of the United Kingdom of Great Britain and Northern Ireland.