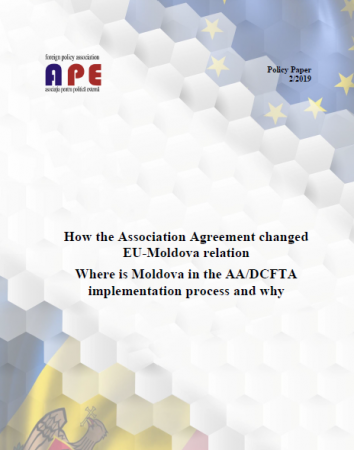 Ludmila Nofit, APE program coordinator.
Ștefan Josan alumni College of Europe (Belgium).
This analytical study will assess the current EU-Moldova relationship, through the implementation of the AA/DCFTA.
Using relevant criteria, the study will outline the major achievements during the implementation of the AA/DCFTA along with setbacks with a particular focus on the role of the Moldovan authorities and the extent to which they deviated from the commitment to pursue an 'European path'. In addition, the document also explores the role of the European Union in the Transnistrian settlement process. More specifically, the paper will explore whether there is a role for the EU as a mediator rather than observer, and the implications of the DFCTA in the breakaway region (where it is partially implemented).
Extract: http://www.ape.md/wp-content/uploads/2019/03/EU-MD-relations.pdf